Today I've seen some new instruments, shown by our teacher in traumatology class. This is first time I ever heard of them, and of coz I've never realize something like these would exist. So amazing to see how experts in this medical field put their efforts to save end-stage patient of poor prognosis of recovery from losing their legs.
These instruments are used only in the last stage of many severe diseases of the femur and knee joints, include osteoarthritis and osteonecrosis and often as a last choice of surgical treatment. Prior to this intervention, there're many other alternative surgical treatments such as core-decompression, bone-grafting, osteotomy, bone resurfacing..etc but once the disease involves joints and causing severe destructing effects on the sockets of articular surfaces, surgical replacement of the affected part is the only effective treatment.
Here are the pic taken in the class.
Stainless-steel hip joint! made of metal and is really hard, just imagine you've this piece of heavy metal inside your body... >.<
Knee Joint replacement parts - Left one is attached to femur bone, while right one to tibial bone.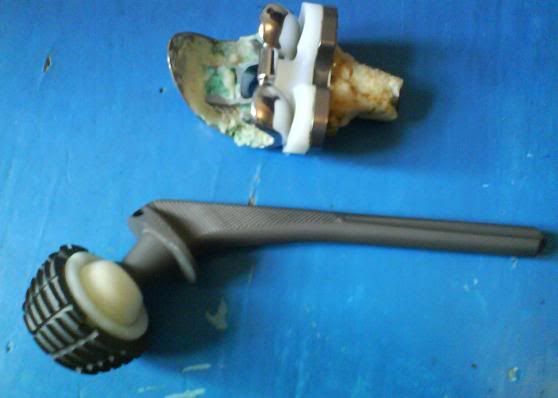 This shows how they're used in joint replacement therapy.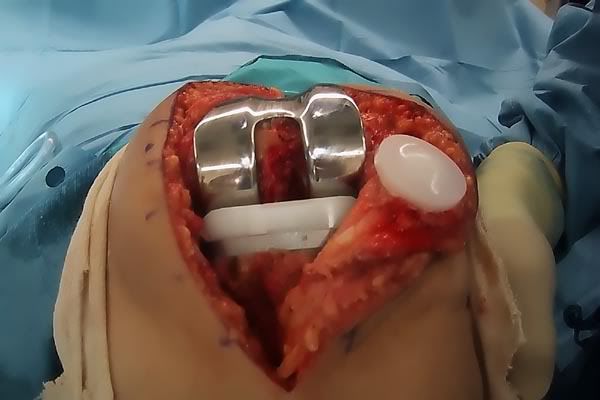 I was searching for some useful informations and found this -- Pic taken during operation of Knee joint replacement surgery, where those devices are inserted to replace the diseased joint.
X-ray after hip replacement surgery.
Success rate of this surgery is very high, up to 95%. However, some patients suffer from chronic pain after the surgery. It is believed to be result of nerve damage during the operation. Besides this, another most common problem after surgery is dislocation due to man-made prosthetics are smaller than the original joint, the ball can then come out of its socket. Other rare complications include blood clots formation and infections. With this intervention, patient is able to resume his normal lifestyle except for having certain activities such as jogging and high-impact sports.
Just my sharings =D