Once in the past when I was still a school kid, I'm so proud of Malaysia's Petronas Twin Tower, which was the world tallest building during that time when it finally finished its construction in 1998.
But now it's no more the tallest building. With the advanced technology and descent creativity of mankind, more and more countries compete to construct a more unique and taller building in the world. Taipei 101 Tower has taken over the world record to be the tallest building in 2004. It is 504m in height over KL petronas Tower which is 452m.
Yet after all I'm sure no one can beat this ones... sooner later in this year, it will be the tallest ever skyscraper in the history of the world...Just imagine, it is almost double the height of KL twin tower!
--> The Burj Dubai.
Compare the top 5 in the world! KL Twin Tower is now World 3rd.
(Credited to BurjDubaiskyscraper.com)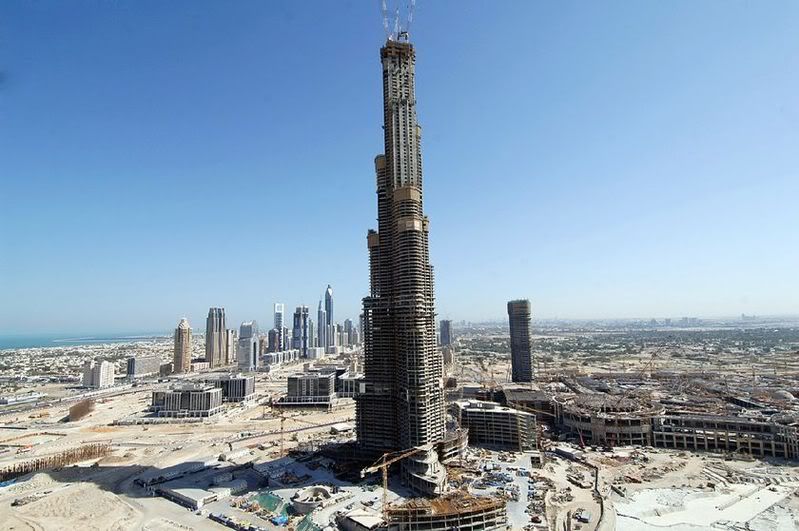 View over the construction site. It is planned to be accomplished soon in the end of this year! No one knows yet its exact height, but estimated to be around 850m!
Just Great and Magnificent! The yet-to-be World Tallest skyscraper!
Amazing right? I found this when I search through the interesting places in Dubai as I might have a chance to pay a visit there if my flight transition period is too long. There's a lot of interesting and wonderful places in Dubai, and quite a number of them claimed to be the 'World Most' and 'World Best'!
Well, I'll look for more info and share with you all when I confirm my trip over there =D